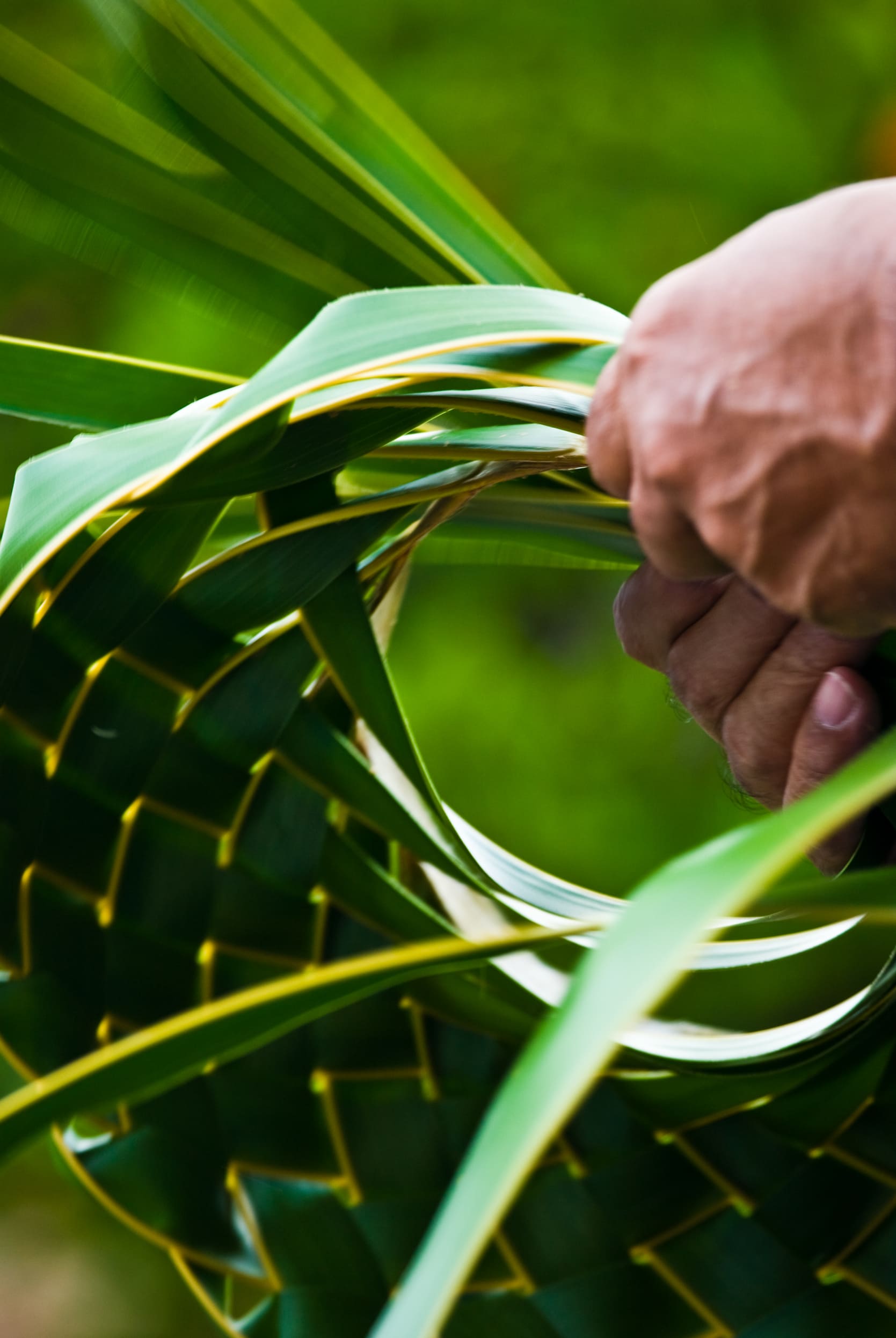 Advanced

Coconut Frond Weaving
Learn how to weave a bowl, platter, or purse with guidance from our Hui Holokai Beach Ambassadors. These are great keepsakes to take home and commemorate your trip to Hawai'i Island.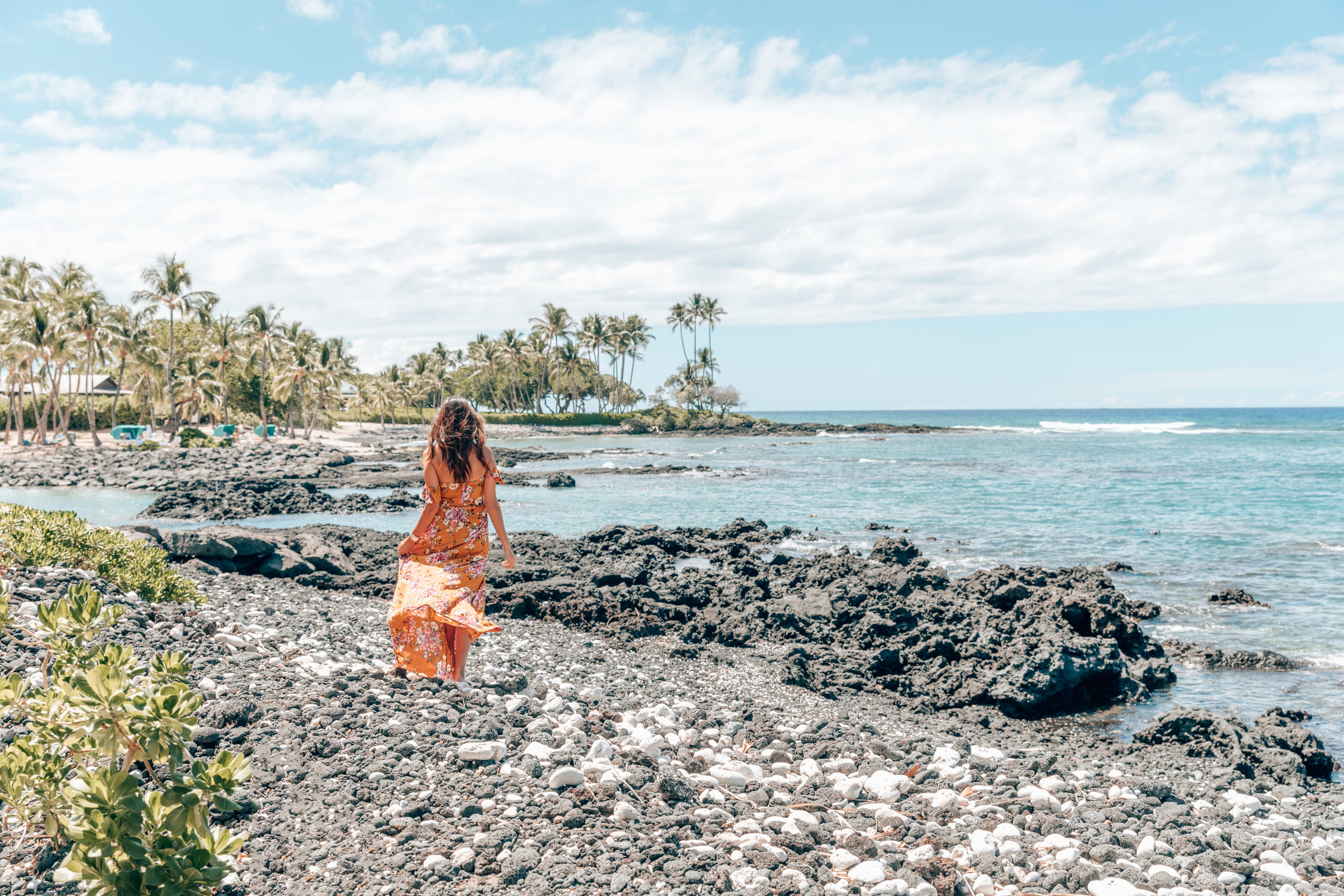 Private Milokukahi Treasures Hike
Learn about the unique landmarks that are within this 32 acre oceanfront property. From the beautiful Pauoa Bay to the ancient petroglyphs, there are many treasures to see along the way.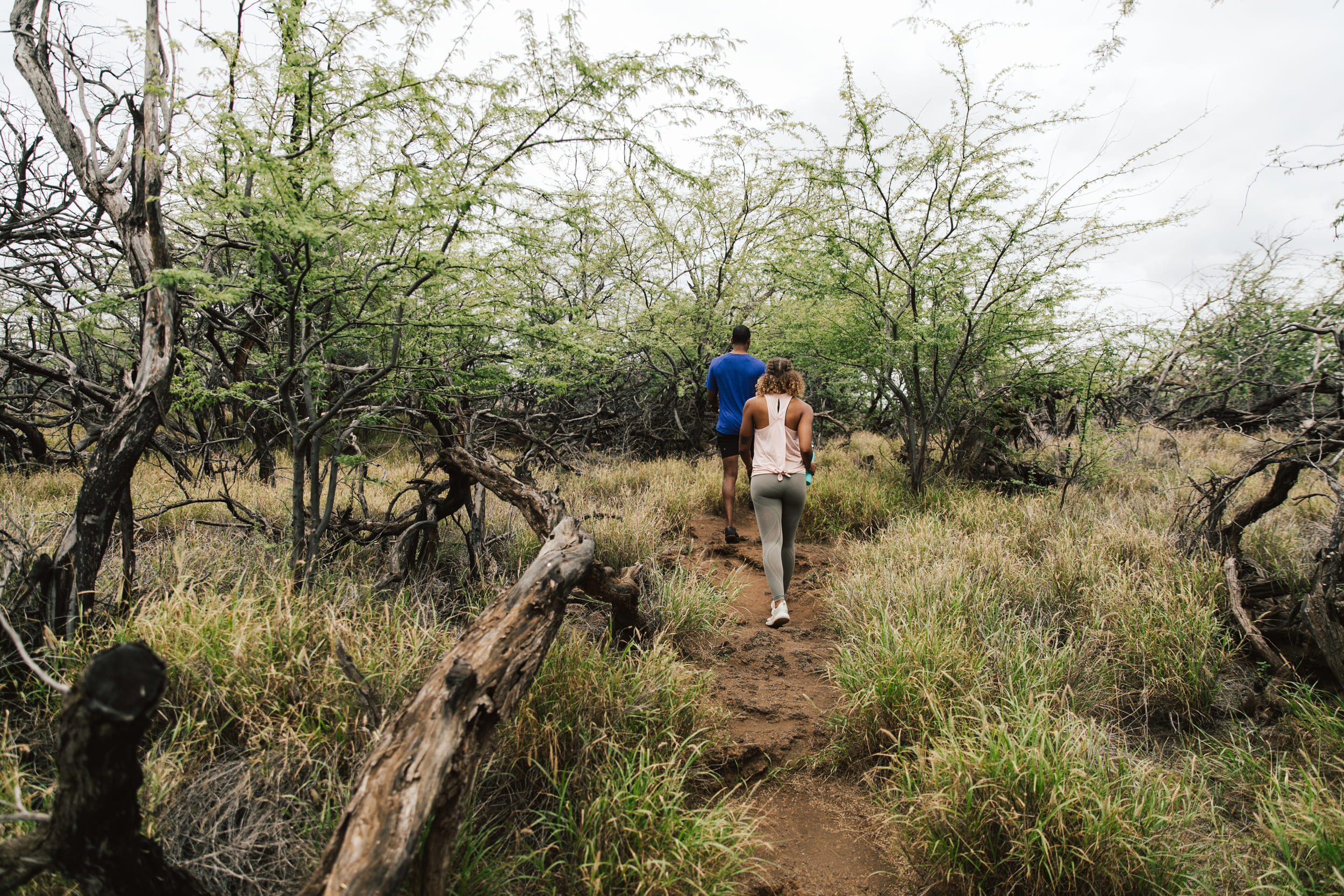 Puakō Petroglyph Hike
Take a step back in time and explore the 233-acre Puakō Petroglyph Archeological Preserve. Talk story with our Hui Holokai Beach Ambassadors as they take you on a leisurely hike throughout the sacred land.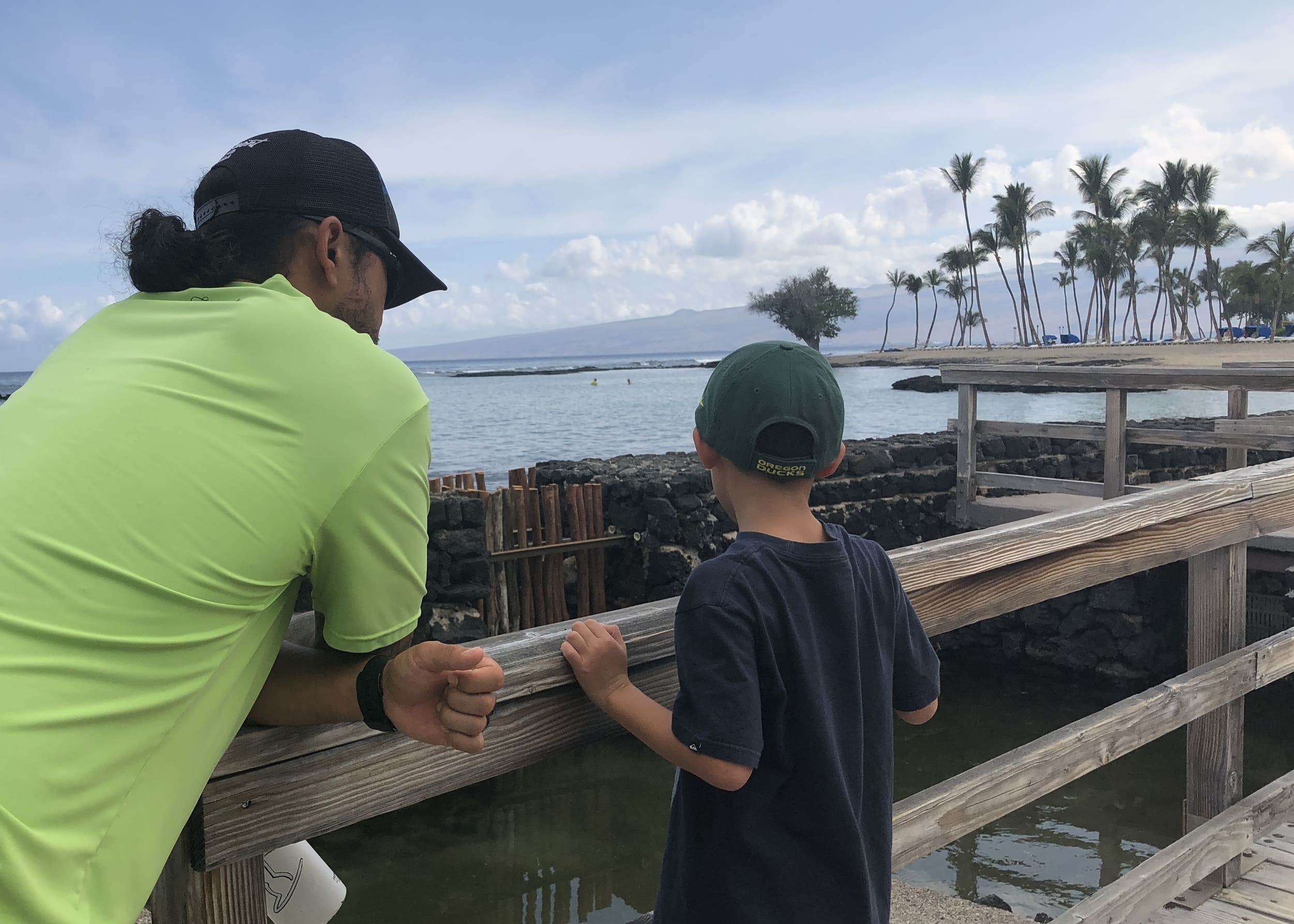 Historical Kalāhuipua'a & Fish Pond Hike
Embark on an experience that will take you back in time. Learn about ancient Hawaiian shelter caves, fish ponds, and tour the grounds of Kalāhuipua'a, known as a gathering place for ali'i (royalty) and special visitors.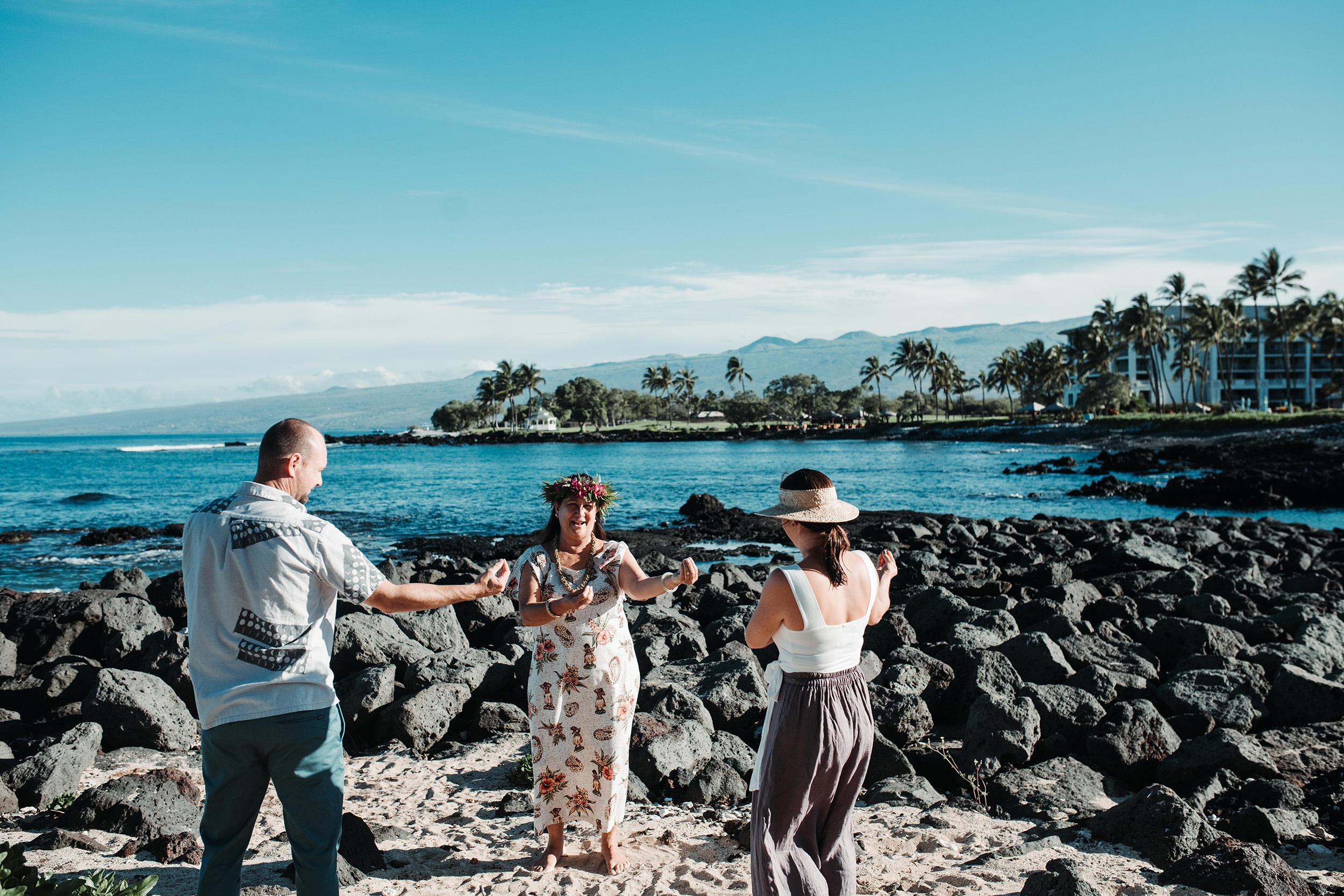 Explore the soul of Hawaiʻi Island as you venture forth in our open-air oceanfront resort. We look forward to sharing our cultural knowledge, ocean skills, storytelling talents and aloha with you. We live to turn your moments into memories and can't wait to guide you on your Hawaiʻi Island journey.
Fairmont Orchid
This luxury resort is just a short drive from top attractions, such as renowned beaches, Pololū Valley and much more.
Pool Shack
Before diving into our 10,00 square foot pool, check in here for towels, sunscreen and poolside cabanas.
Beach Shack
Perched right above Pauoa Bay, the Beach Shack is home to our Hui Holokai Beach Ambassador program. Check in here for your beach equipment rentals, morning canoe adventures and fishing excursions.
Mauna Lani Golf
Experience the award-winning 45-hole championship Mauna Lani Golf Course.
Hawai'i Tennis Center
Have some fun and improve your game at our 10-court, full-service Hawaiʻi Tennis Center.
Hawai'i Volcanoes National Park
Explore one of the most unique geological landscapes in the world at Hawai'i Volcanoes National Park. This magnificent park encompasses the summits of two of the world's most active volcanoes, Kīlauea and Mauna Loa. Filled with 150 miles of hiking trails and awe-inspiring sights for you to see, it's definitely a must-see when visiting Hawai'i Island.
Liliʻuokalani Gardens
Stroll through historic downtown Hilo and you'll find Lili'uokalani Gardens. Here you'll find the largest, authentic Edo-style ornamental garden outside of Japan. The enchanting garden is named after Queen Liliuokalani who donated the original five acres of land to create a public park in 1907. If you're plannig to spend a day in Hilo, the serenity of the gardens are sure to brighten your day/
Wailuku River State Park
Take a trip to Wailuku River State Park where you can bask in the beauty of its wondrous waterfalls and the mysterious boiling pots. The boiling pots are a succession of big pools connected by underground cascades whose waters appear to roll and bubble as if they were boiling. On misty mountains, you might even be able to see a rainbow under the reknowned Rainbow Falls (Waiānuenue) that is said to e the home of Hina, mother of the demigod Maui.
Manukā State Wayside and Nature Trail
Located within the Manukā Natural Area Reserve, you'll find the Manukā State Wayside and Nature trail. Here hikers can enjoy trails leading through a forest of native Hawaiian plants and animals. taking in sights that comprise Hawai'i Island's natural history.
Lava Tree State Monument
Stop by a unique sight at the Lava Tree State Monument and find molds of the tree trunks that were formed when a lava flow swept through the forested area in 1790. An easy trail, here you'll have a chance to witness the work of Pele (the volcano goddess) and her lava garden.
Lapakahi State Historical Park
Immerse yourself into traditional Hawaiian culture at the Lapakahi State Recreation and Nature Trail. Here you'll find a large area of ruins from an ancient Hawaiian fishing village in North Kohala along with a short one mile hike where you can view numerious artifacts. The name of the park, Lapakahi, means "single ridge" and refers to the ancient ahupuaʻa (land subdivision) that existed here some 600 years ago.
Kalōpa State Recreation Area and Nature Trail
Bring the family out for a nature hike at the beautiful Kalōpa State Recreation and Nature Trail. With a 0.7 loop trail, your family can delight in an easy walk that passes through a arboretum of Hawai'i's native plants.
Mālama Trailhead
Enjoy a captivating hike through the Puakō Petroglyph Archaelogical Preserve at Malama trailhead. Take in spectacular views of the ancience Petroglyphs alongside the rocky shoreline of Holoholokai Beach Park. Hikers of all skill levels can enjoy the 1.38 mile trail at an elevation gain of 171 feet, meaning this will be a flat and simple walk throughout Hawaiian culture allowing you to soak in more of your surroundings.
Puakō Petroglyph Park
Take a short trip and visit the ancient Puakō Petroglyph Archaelogical Preserve. This sacred site features petroglyphs or kii pohaku, lava rock carvings etched into stone that date back to 1200 AD. Follow the designated viewing paths and gaze at the wonder of these historical carvings, taking in the cultural writings of early Hawaiians. Try to visit this area in the early morning or late afternoon for better lighting as the shadows add extra depth to the petroglyphs.
'Akaka Falls State Park
The trip might be short, but the payoff is big at this lush state park on northeastern Hilo Coast. It's less than a half-mile and 75 feet up, and you'll amble through bamboo, feathery ferns and wild orchids en route to two rushing waterfalls. Kahuna Falls measures 100 feet, while 'Akaka is a classic chute falls blasting 442 feet down into the steep gorge and Kolekole stream. You'll see why it's the Big Island's most famed cascade. This easy trek along a paved trail is ideal for families. Go on quieter weekdays before 11 am to see the sun lighting up the falls.
Pololū Valley Lookout
This enchanting, volcano-carved valley at the end of a quiet road really feels like a postcard of quintessential Hawaii. Take in what reviewers rank as one of the top Big Island panoramas: 500-foot-high cliffs of the northeastern coast carpeted in a velvety green, dramatic gulches and gorges, craggy rock outcropping silhouettes rising from the sea, grazing horses and breakers hitting the shore far below. Then descend the steep trail through the ironwood trees for about half an hour to the valley floor. Picnic on the black sand beach "at the end of the world," as one reviewer calls it, and watch for humpbacks from December to March. Go early in the day and bring ample water. Stop in at the artsy town of Hawi on the way in or out.
Kaloko-Honokōhau National Historical Park
This history-filled coastal park situated on the lava flow has it all — petroglyphs, temples and historic settlements — plus it's conveniently close the airport, making for a perfect departure day excursion. Take a guided tour or sign up for a special program spotlighting the engineering prowess of native Hawaiians. Explore cleverly constructed kaloko (fishponds) and four ahupuaʻa (mountain-to-sea land divisions in the traditional format), watching out for honu, Hawaiian green sea turtles, seals and native birdlife.
Kealakekua Bay
If you're going to snorkel and scuba dive or kayak off the resort, do it here. This clear turquoise bay near Kailua-Kona is teeming with sealife — and considered the best snorkeling in all of Hawaii. Add to that the abundance of archaeological and historic sites, and it's a day trip in paradise. Swim past spinner dolphins, healthy coral reefs, graceful manta rays and schools of colorful tropical fish. In addition to an ancient temple built for human sacrifice, Hikiau Heiau, see where Captain James Cook, the first westerner to arrive on the Islands, landed in 1778 — and was infamously killed just a year later.
Pu'uhonua O Hōnaunau National Historical Park
Meet the royal Hawaiians — or at least get fascinating glimpses of how they once lived. In South Kona, this is a 180-acre park, once royal grounds, as well as a refuge for lawbreakers lucky enough to make it past the daunting black lava shoreline and seek asylum. See one of Hawaii's most sacred historic spots on a self-guided walking tour: the immaculately restored Great Wall, kii (larger than life wooden carvings of gods), thatched work house, fish ponds and temple (heiau) housing the remains of the alii (chiefs), one of the park's oldest remnants. Visit at sunset if you can.
Ohaiula/Spencer Beach Park
Snorkel and splash at this family beach, a popular sandy shore and great stop on your last day enroute to the airport. An outside reef provides shelter for calm waters, making this the west side's best swimming spot for little ones. Picnic at a park pavilion or under the shade trees, barbecue up some fresh catch and walk to Puukohola Heiau National Historic Site and its famed 1810 war temple for a little educational touring. Also close is Historic Kailua Village (Kailua-Kona), just a 30-minute drive north.
Holoholokai Beach Park
Read, nap, relax, repeat. Snap a few pictures. This rocky coast lined with black lava and white coral is a study in color contrasts. Serene and unusual, it's small and intimate, with sea creature-filled tidepools and scenic walks. It's also close to Fairmont Orchid. Bring a picnic and pair your beach day with a tour of some 3,000 ancient lava rock carvings at Puako Petroglyph Archaeological Preserve, just a short amble away.
Hapuna Beach Park
World renowned for good reason, this is the island's biggest white-sand beach, known as one of its finest. But don't worry, there's lots of room to claim your spot on the soft sand with a good book or picnic basket, plus ample parking, facilities and a lifeguard. It's vast: a half-mile long with clear aquamarine water, a continuous shore break and perennially sunny weather, plus views all the way to Hawaii's Haleakala. Come for primo body-boarding, swimming and snorkeling. In winter and spring, look for migrating whales just off the shore. Arrive early to beat the crowds and lay your towel in the shade.
Anaehoomalu Bay
Sugary white salt-and-pepper sand and some of the Big Island's loveliest pink and purple sunsets (on the southern side) are the draws of A-Bay, both quiet and family-friendly. The crescent-shaped strand is situated at Waikoloa Beach Resort in a calm bay optimal for swimming. Explore two ancient fishponds along the shore and watch for Hawaiian sea turtles. Rent boards, hydro bikes and kayaks. Scuba past blue parrot, trigger and puffer fish, windsurf, hike the area or nap on the sand. Bring a picnic.
Driving Distance: 1 minute
Loading map ...